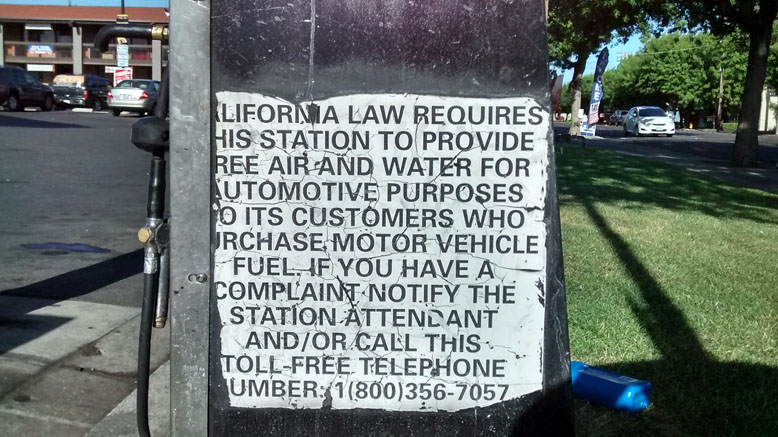 If you've ever been to a gas station in California, you've probably noticed that the station has an air pump to inflate your tires. Every air pump I've ever seen also has a water hose to fill your radiator. Some stations have air pumps and water dispensers that require a token that a customer who buys gasoline can get from the attendant. You may have also seen a sign like the one above on the air pump or near it that says that California law requires the station to provide free air and water to it's customers. The rationale here is to provide for public safety by giving the average driver the means to keep their tires properly inflated and cars from overheating, both of which should reduce accidents.
The law in question here was passed in 1999 and went in to effect on January 1, 2000 as Business and Professions Code section 13651. Free air and water is covered in section 13651(a). The requirement regarding the posting of a sign like the one above is in section 13651(a)(2). Section 13651 also covers the availability of gas station restrooms in sub-section (b).
Should you as a member of the public come across a gas station that doesn't have free air and water available to its customers, section 13651(d)(2) provides that the gas station may be subject to a fine of $250 by the Division of Measurement Standards of the California Department of Food and Agriculture.
The following two tabs change content below.
Andy I. Chen is a lawyer licensed to practice law in California and New York. Andy maintains offices in Los Altos, California and Modesto, California. Under the New York Court of Appeals' 2015 decision in Schoenefeld v. State of New York, Andy does not accept cases from those in New York state. He does, however, know many lawyers in New York state and would be happy to make a referral.
Latest posts by Andy Chen (see all)